From your pastor, Father Brian
You can watch Fr. Brian's video statement here
At this time, I cannot give you the precise date when public masses will resume at St. Thomas the Apostle.  Our parish has some relatively unique attributes – not the least of which are population density and, thankfully, enthusiasm for attending Mass – which make our safe opening especially difficult.  Our dedicated staff and volunteers are working as quickly as possible to put cleaning procedures, new training for hospitality ministers, video orientations and other important details in place.  We will notify you of our start date as soon as possible.
When we are able to reopen,
a few important things to keep in mind:
In the words of Archbishop Hartmayer:  "The dispensation from the obligation to attend Sunday Mass remains in effect for all in the Archdiocese through Sunday, June 28. Because of this,

 

those wishing to participate in Mass and receive Holy Communion can do so by attending any Mass any day of the week."  Hence, every day will be as if it is your Sunday Mass.
We will continue to offer video of the Mass via live stream.  Everyone is encouraged to continue their spiritual communion through this resource.  Staying home is still the safest option.
To make our reopening possible, we request donations of the following items:


Face masks
Hand sanitizer
Cleaning products that disinfect without bleach. Bleach will damage the pews.

Please contact the office at 770-432-8579 or stthomasga@stthomastheapostle.org if you are able to supply any of these important items.
We will need many volunteers in place to serve as hospitality ministers and to help clean between Masses every day of the week.  If you are willing to serve once, twice, or more days per week, please contact the parish office.  We will offer training before we begin a public Mass schedule.  I am thinking at this moment that 10 volunteers for each Mass will be necessary.
Be sure to receive text notifications from the parish by signing up for the REMIND service.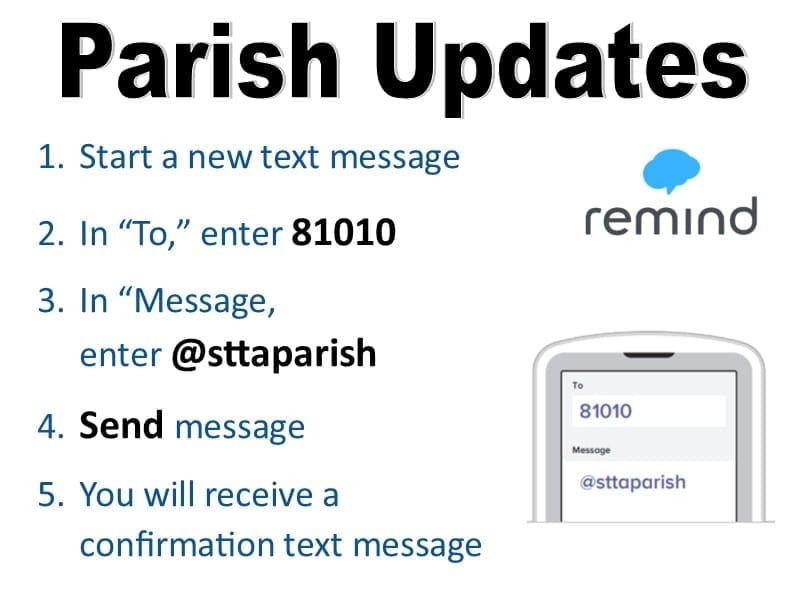 Of course, the return will be very slow and the entry into the Church will be very different.  It will be as if one is attending a theater event with guidance.  Let us pray for a safe return. 
We are excited and happy to be on the path to reopening.  Please be patient as we work to GET IT RIGHT.  We will be in touch very soon with more details.
God bless you.
–Father Brian