Santa Celebrates Baby Jesus' Birthday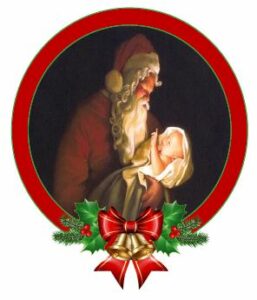 Come join the fun!
We will have food, drinks, games, prizes, children's shopping spree, cookie decorating, The Balloon Man, Kona Ice truck, appearance by Frosty and Rudolph, Live Nativity Scene and of course, keepsake photo with Santa!
Tickets will be on sale after our Thanksgiving Mass on Thursday, November 25 at 9:30 a.m. in the backpacking lot and ALL Masses on November 27-28. Each pre-purchase ticket guarantees admission to the event in our Social Hall if the weather prevents an outdoor event festival.
Pre-Paid tickets are $21.00 for 3. They include: hotdogs, chips, treats, drink keepsake photo with Santa, activities area featuring cookie decorating, tattoos and card making. Additional adults tickets are $4.00, each additional children tickets are $6.00 which includes cookie decorating and activity area.
Santa Celebrates Baby Jesus's Birthday is sponsored by The Women's Auxiliary of St. Thomas with the help and assistance of the Knights of Columbus, the  St. Thomas Hispanic Community and Father Jaime.

If you can not make it to any of our Masses please contact Flossie Haines at hainessmyrn@aol.com