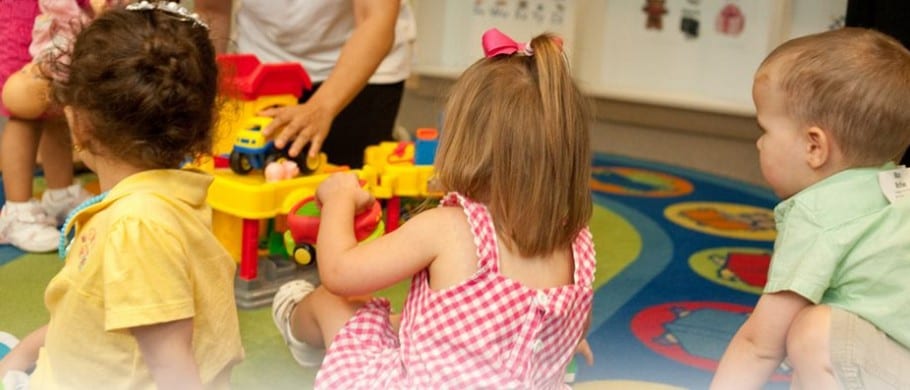 CONTACT
Maria Smith
Nursery Coordinator
770-432-8579 Ext. 114
Click HERE to e-mail
Registration
To register your child for Nursery service please download and complete the Child Registration Form and the Medical Authorization form.
Please arrive at the nursery 15 minutes before service begins with these completed forms and one of our volunteers will be glad to help you to check-in your child.
Download Forms & Documents
Did you know that God is in the church nursery?
And Jesus took a child and put him in the midst of them, and taking him in his arms, he said to them, "Whoever receives one such child in my name receives me, and whoever receives me, receives not me but him who sent me." (Mark 9:36-37)
When you welcome a child in the name of Jesus, you welcome Jesus himself. When we minister to children – God is with us.
If you wonder why you are feeling called to serve in the church nursery? Now you know – God is there.
Mission Statement
The mission of the Parish Nursery is to provide loving care to our most precious blessings in a safe environment where our children will come to know and love Jesus through our promotion of spiritual awareness and growth. To provide reassurance for parents that children will be well cared for by active participation of our fully trained volunteers.
Description
Our Parish Nursery is a volunteer based program provided by parents and other volunteers with a love for children to provide loving care for children aged 6 months to 4 years. The Nursery provides parents with care for their children so that they can attend and enjoy active participation in the mass and some church events. Our nursery will contact any parent whose child cannot be settled after 10 minutes of crying related to the separation from the parent or any other incident. The primary goals of our Nursery are to provide a safe, clean, loving environment for children so that their parents can actively participate during mass or other parish events.
Security System
A 2 Tag system is used to mark the child and diaper bag along with a silent pager. Each set of tags and pager are numbered. The number on the key tags will be listed as the child's number for that day. The corresponding pager number will be assigned to that parent. The child will only be released to an adult with the matching tag and whose name is on the Child Registration form. The Adult requesting a child for check-out must produce a photo ID and the matching key tag. The Volunteer will sign the child out to that Parent/Adult and mark it on the check-out form.
Evacuation Plan
All children will be evacuated to the parking lot located by the cell tower. Or if the emergency is at the cell tower area then they will be evacuated to the rear parking lot by the Rectory. In the event of a Tornado, all children will be relocated to the Social Hall directly in front of the stage.
Volunteer at the Nursery
Thank you for your interest in ministering to God's little ones in the Nursery at St. Thomas. We ask that you commit to volunteering on a monthly basis but first you will need to have some training. The Training ensures that all children receive the same consistent, safe, loving care and that the church and the volunteers are protected by any possible liabilities. Also, it is comforting to parents who are leaving their children in the Nursery to know that they will be well cared for.
There are THREE training steps that all Nursery Volunteers must complete before volunteering in the Nursery.
1) Complete a Volunteer Packet required by the Archdiocese of Atlanta for your protection and the protection of the children in the Nursery.
For more details on this step, click HERE.
2) CPR training is required for all volunteers. It is a cost of $25 per person which the church will pay. We are asking for those who can to donate towards this cost in order to reduce the bill for the church. If you are interested in the CPR training, please e-mail the Nursery Coordinator to be placed in the waiting list.
3) Nursery Process and Procedures training is held on a regular basis. If you are a "Stay at Home" Mom, you might like to join us on Thursdays at 10:00 a.m. for a playgroup designed to be a time for children to get familiar with the nursery and for Moms to meet other Moms who are also parishioners.
Thank you for making this commitment to our Nursery. We know you will find it very rewarding and hopefully spiritually uplifting to be able to witness Jesus in the Nursery.
Nursery Guidelines
Positive Guidance and Discipline
General Information
– The Nursery opens for service 15 minutes before mass begins and will close 15 minutes after mass is dismissed.
– Children who come to the nursery on a periodic or regular basis must have a Child Registration form and ID Card completed (contains contact info/special instructions, allergies, toilet trained etc). All registration forms must be completed prior to dropping child off in the nursery and are available on our website and also at the Nursery.
– Nursery is open for children who are walking up to age 4 years. There is a limit of 12 children with a minimum of 2 Adult volunteers. (Siblings may stay together upon special request and availability). Any overflow may be accommodated with advance notice by using available classrooms. However, the ratio of the number of adults to children must be maintained in any additional classroom used. The State Guidelines must be followed.
– Upon reaching their 4th birthday, children should attend PSR classes during 9:30 a.m. and 11:30 a.m. masses (this does not apply for Spanish masses). Upon reaching their 5th birthday children are expected to attend mass.
– No food is allowed in the nursery during mass times. It is not fair to other children, and we must be mindful of the rising number of dangerous food allergies.
– A Diaper bag should be provided with a "Sippy Cup" or Bottle, diapers, wipes and a change of clothes. Please include 2 changes of Underpants/Panties if your child is toilet trained. Please make sure that all items are clearly labeled with your child's name.
– Please DO NOT bring toys from home. Your child may leave this toy down and another child may pick it up and take it home by accident.
– For special events outside of weekend liturgies see Policies and Procedures for Special Events (In progress).-
Staffing
– The Saint Thomas Nursery Coordinator will coordinate all volunteers for the nursery. A team of volunteers will support the Nursery Coordinator in this ministry.
– Volunteers need to be present in the nursery 15 minutes before it opens, that is 30 minutes before each mass time.
– Caregiver volunteers will sign in and out.
– At least one Caregiver per room will have CPR/First Aid Training, all Caregivers should plan on attending CPR/First Aid Training when offered by the church.
– A minimum of two adults is required in each nursery room at all times. (One set of parents counts as one adult).
– No child may be left in the nursery unless there are 2 Caregiver volunteers present.
– The maximum number of children for Nursery is 12. The adult/child ratio will be monitored frequently. The Nursery will follow the state guidelines for Adult/Child ratio (Available from Nursery Coordinator and posted on Notice board).
– Caregiver volunteers must have a satisfactory Background Investigation as required by the Archdiocese. Only those who have passed this Background check and have completed the required Nursery Volunteer Training are permitted to serve in the nursery.
– Caregiver Volunteers will be easily identifiable with nametags.
– If your child uses the nursery, you will be required to volunteer in the nursery on a rotating basis.
– The nursery schedule will be available on the website and on the bulletin board outside of the nursery. The Nursery Coordinator will be responsible for scheduling all events for the Nursery. If a volunteer is suddenly unable to fulfill his or her obligation in the nursery, he or she is responsible for making arrangements for a replacement. The volunteer can arrange to switch shifts with another volunteer listed on the chart. Please notify the Nursery Coordinator of all Volunteer changes.
top
–
– Adult Volunteers must be at least 21 years old and have a satisfactory background investigation.
– Archdiocese of Atlanta Safe Environment training is required. Please see more information under Volunteer Guidelines.
– Teen volunteers (under 21) may not be in charge of children without an adult present.
– All volunteers must participate in an orientation and have Pediatric and Adult CPR/First Aid training, child abuse identification and mandated reporting laws.
– Additional training should include fire, intruder safety, emergency procedures, universal precautions for sanitation, disinfection and maintenance/childhood injury control, illness – – – detection.
– Volunteers must complete a Volunteer Profile (Contact The Nursery Coordinator to obtain this form).
– All Caregivers volunteers should be easily identifiable: name badges, (without pins).
First Aid / CPR
– Caregiver Volunteers and nursery staff will receive Adult and Pediatric CPR/First Aid training from a certified program and instructor. See the Nursery Coordinator for the next scheduled Training in English and Spanish.
– There is a First Aid kit in the stored on a high shelf inaccessible to children but easily accessible to caregivers.
Medications
Volunteers are strictly prohibited from dispensing over the counter medications to children. Parents must administer all prescription and over the counter medications to children. The only medicine that a volunteer may administer is if the child comes with an "antidote" to be administered in the event of a severe allergic reaction as indicated on the child ID card.

Sign-in / Sign-Out Procedures
Parents must sign children in each time they participate in the Nursery. Use the Sign/In Out log for the release of children to ensure only authorized individuals' access. Children should always be cared for in a safe, secure space where they cannot get separated from the group. A Child Registration form and Medical Authorization should be maintained for each child.
Head Counts:
When each Nursery room has reached capacity, the "Nursery Capacity full" sign should be displayed on the half door. Follow the posted maximum occupancy signs posted in each room. The State ratio will be adhered to at all times.
Environment
All Volunteers are responsible for evaluating the environment to ensure safety and health requirements are maintained.
– No glass containers, hot beverages, or snack foods. Caregivers should not eat in front of children.
– Children should not walk around the room with drinks or food.
– Toys will be disinfected with "AntiBacterial" spray and air dried after each function. Any toys that have been in the mouth of a child should be removed from general circulation. Place all items in specified bin to be sterilized.
– Plastic gloves must be worn and discarded after each diaper change.
– Diapering and handwashing procedures will be followed. (See Appendix).
– Cabinets for storing cleaning supplies must be locked and inaccessible to children.
– If a child is hurt or any incident occurs, an Incident Report (located in the Nursery closet) will be completed by the caregiver and a copy given to the parent.
– Toys and equipment in good repair. (Please identify any broken toys and remove from the play area. Leave note for Nursery Coordinator in Comments section of: SignIn/Out sheet.
Infants
– Infants will be changed on a Disposable/sanitized mat on changing table, never on the floor.
– Caregivers must be able to respond to infants quickly.
– Use of video monitors may not replace visual checks by caregivers.
– Toys/stuffed animals are prohibited in the nursery.
– Playpens are not recommended.
– Volunteers will assist the child when needed, but encourage independence in the restroom.
– The Restroom door will remain ajar or open (depending upon the age of the child at all times).
– Never let a child go to the bathroom alone.

Two-Adult Rule
At least two caregiver volunteers are required for every group of children. If a married couple is in charge of the nursery, they are legally considered one person in a supervisory capacity. Volunteers should not sit (unless feeding an infant or reading a book or performing an activity requiring the to sit) but should circulate through the room and engage with the children. Volunteers should be able to sit on the floor with a small group of children engaged in activity. Children should not walk to the restroom or leave the room alone. Caregivers must not leave the room so as to impair safety and supervision.
All nursery volunteers should attend an orientation that includes:
– Recognition of child abuse/neglect and reporting suspected incidents guidelines.
– Details of laws regarding child abuse.
– CPR/First Aid.
– Health and Safety Procedures.
– Policies and Procedures for Caregiver Volunteers.
– Safe Environment Training as designated by the Archdiocese of Atlanta.
Avoid:
– Any touching done to express power or control.
– Any touching that has a seductive or suggestive implication.

– Use the Incident Report (located in the Nursery closet), to document injuries, unusual classroom situations, and any occurrence parents must need to know.
– Incidents requiring more than first aid or a hospital visit must be reported to the Nursery Coordinator who will report them to The Office of Parish-Based Early Childhood Programs.