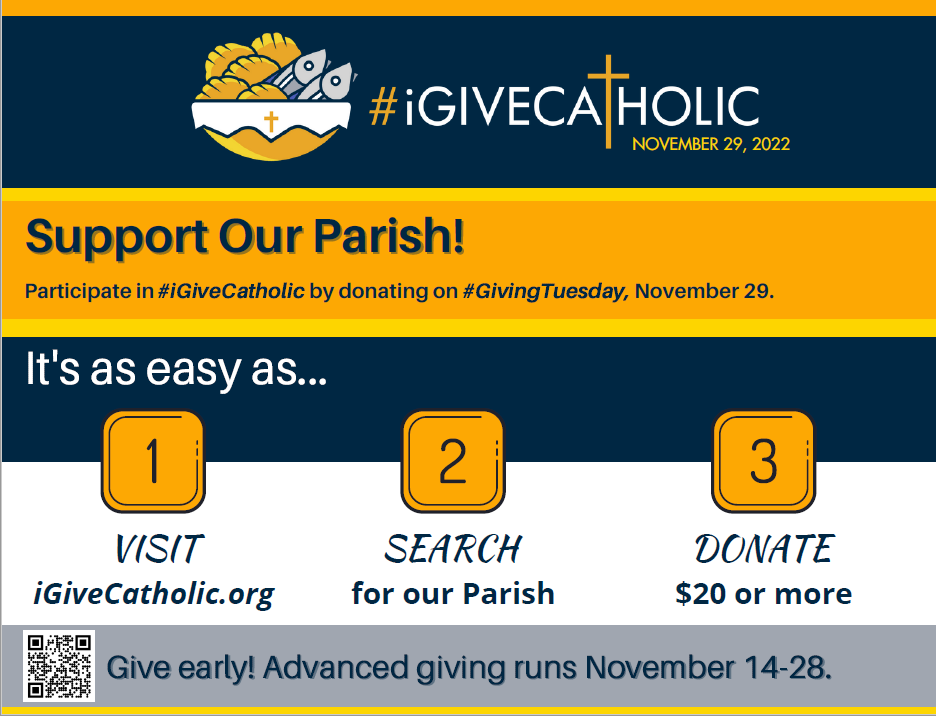 Parish Mission Statement:
As a faith community we seek to have the loving, reconciling presence of Jesus at the center of our lives, especially in the Eucharist where we experience an understanding of God's grace; to build strong bonds of mutual support within our community; and to serve the cause of mercy, justice and evangelization in our world.
Our 2022 #iGiveCatholic Request:
We are thrilled to participate in #iGiveCatholic! We are grateful for the opportunity to raise funds to replace important equipment in our parish.
In 2022 we seek your help to replace our beloved electronic sign! Originally donated by our African Parishioner Organization, the sign, located beside a very busy road and the main entrance to our campus, has served as a major communication tool for our faith community. From Mass times, to special events, well wishes to prayers, and especially seasonal reminders, our electronic sign was updated with all sorts of important information about parish life. It has served as a beacon of welcome to all those in our area.
During the pandemic our sign ceased to operate. Due to the ever changing world of technology, it became inoperable due to hardware limitations versus required software upgrades. After investigating repairing or replacing the sign it became evident that replacing the sign was the best option, however the enormous cost to repair or replace was more than the church could afford. Sadly, it has now sat dark for over a year. 
We lost an important communication tool during a time when it was needed most.
Restoring this important channel of communication will enhance parish life and increase participation in important Catholic calendar events. We are grateful for any and all donations to help us reach our $35,000 goal. The proposed replacement sign will provide us with the latest hardware and software affording more opportunities to make real time adjustments to messaging, provide a better overall visual experience and bring back welcoming light and message at our front entrance.
Please help us to restore our sign and the smile to our Pastor's face! Donate HERE